Yes, today's post consists of not only one Forever 21 haul.... but two! I stopped by Forever 21 two weeks ago and made a purchase in addition to an online order that I received recently. I made the online order just to get a particular thing because it was sold out at all the physical stores (I stopped by three different F21's in hopes to find it but sadly I couldn't). Can you guess what it is?
Buckled Suede Flats
Here's another addition to my already large shoe (and flats) collection. I love everything about this pair of flats: the thin buckle, the scalloped gold accents, the almond toe, the nude colour, and the suede texture. Feminine and pretty would be two words that would describe the look of these shoes. It's great for all occasions: work, casual, and dressy. The only downside is that the buckle actually needs to be undone every time you take it off.
Glasses Tee
Some of you may have already seen this on my Instagram (you can follow me
here
at @desireelaw :) ). I'm a student optician so of course I would buy this tee with glasses on them hehe. It's a cute step up from a plain, white tee. I dressed it up by wearing a collared tank underneath so that it's work appropriate. Otherwise, you'll probably see me sporting this as an everyday, cozy tee.
Glasses PJ Set
This I happened to stumble upon on the website, and I couldn't resist getting this too because oof the glasses print (although I was looking for new pj shorts). The tank has an adorable quote that says "I only have eyes for you". It's cute enough that I would wear out :P
Layered Necklace
Sometimes it's hard to combine individual necklaces together because the lengths may not work out nicely together or it just doesn't look good together with the charms or pendants that each has. Well, I don't have to worry about any of that because this two-layered necklaces came together! It's one necklace in the sense that it has one clasp for both strands. The shorter strand has an alternating gold and pastel pink bead pendant (one of my favourite colour combinations), and the longer one has a pastel pink gem charm. It's a great piece to add some dimension to a plain outfit.
Collared Necklace
This is a totally different style in terms of accessories from what I usually wear. It was on sale so why not give this a try haha. The style of this accessory is edgy but it's also girly because of the thin gold collar and the teal, jade-like stones on the ends. I definitely need to look into how I would wear this with different outfits, but I'm envisioning that it would look great with a deep neckline, something like this.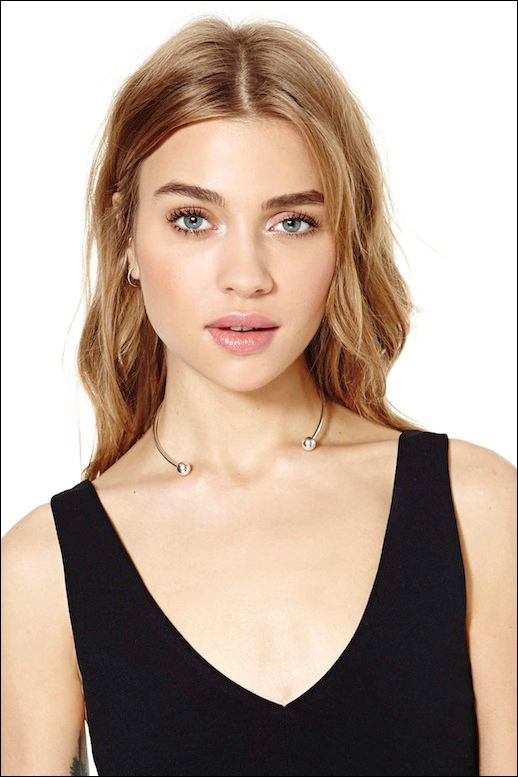 Taken from lefashionimage.blogspot.com
White Midi Skirt
This is the second midi skirt in my wardrobe. I really like the midi, knee-length skirt trend that's coming back from the 50's. I'm definitely not one to wear mini skirts and sometimes maxi skirts are too much for certain occasions or outfits. The subtle but beautiful detail is the eyelet trim of the skirt. It's a piece that can definitely be dressed up or down. I can't wait to wear this for the rest of the summer (maybe I'll do an OOTD on it ;D)
Perfume Tee
It's another cute tee that I couldn't not buy :P The sketches of different kinds of perfume bottles is so unique and feminine. There's something elegant about perfume bottles and this tee shows that off.
Coral Skirt
It's a structured, A-line skirt that I purchased for work intentions. It adds a pop of colour to the work clothes I have (which are otherwise the usual black, greys, and blues). I adore the semi-pleating detail on the front of the skirt. The skirt also has pockets...what more can I ask for? :D
I love this haul a lot. :) What have you hauled recently?
Until next time, Des